Your horses deserve the best. Make sure you invest in the best horse barn available with an Amish-built horse barn from Capitol Sheds.
We custom design and build run-in sheds, stall barns, hay feeders, and other horse barns that meet your exact specifications. That means you can choose the color, layout, and features to match your existing structures and design aesthetic. Each is built with superior craftsmanship and premium materials so you know your barn will last for years to come. Contact us today to start working on your dream horse barn!
Explore Our Horse Barns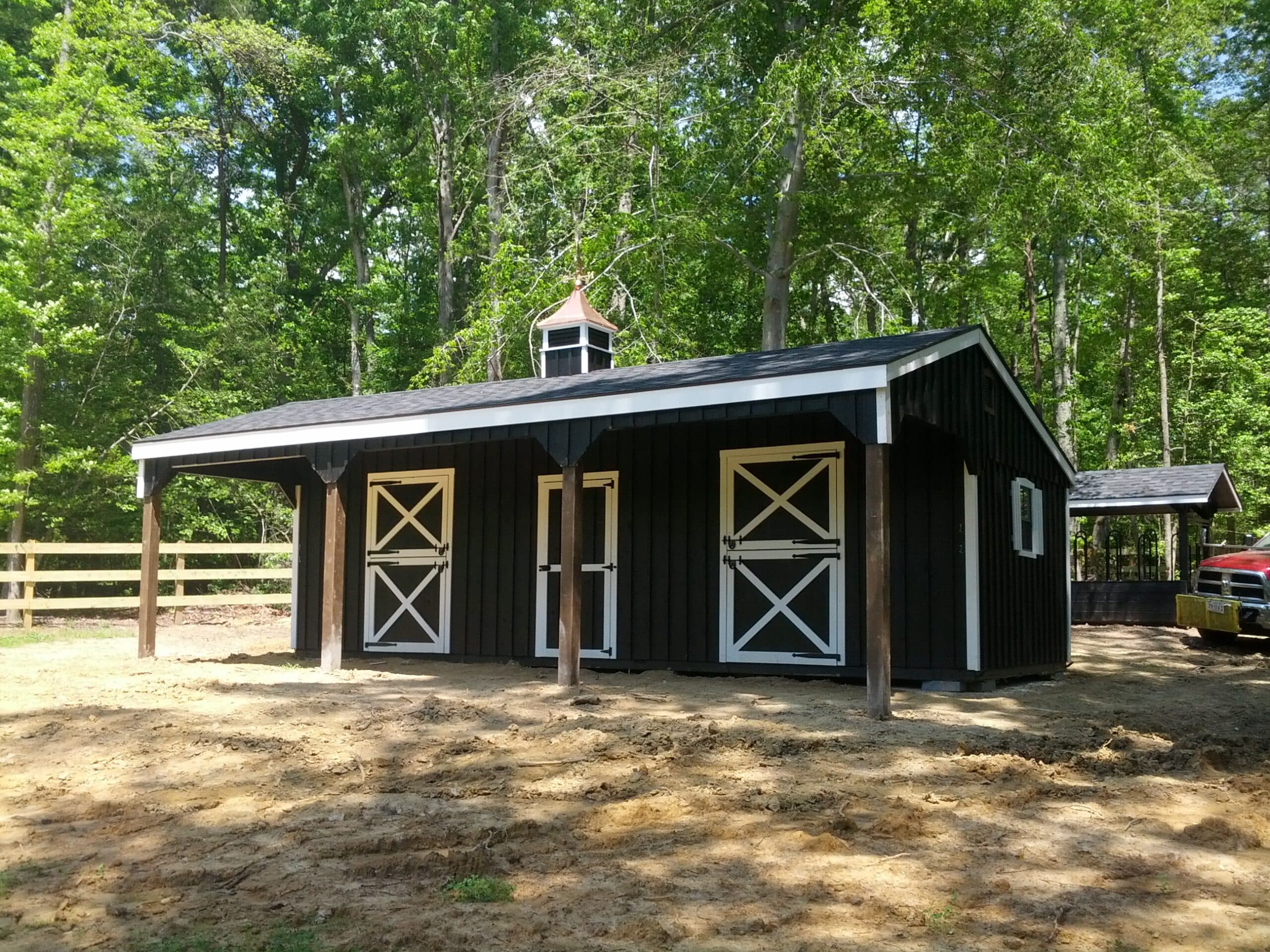 Image 1 of 18
Image 2 of 18
Image 3 of 18
Image 4 of 18
Image 5 of 18
Image 6 of 18
Image 7 of 18
Image 8 of 18
Image 9 of 18
Image 10 of 18
Image 11 of 18
Image 12 of 18
Image 13 of 18
Image 14 of 18
Image 15 of 18
Image 16 of 18
Image 17 of 18
Image 18 of 18
Book Your Site Evaluation

Unsure if you have the right spot for a horse barn? Get expert advice on placement, site prep, and size for your barn. Schedule a time for our Outdoor Consultant to visit your property and discuss your options – with no obligation to buy.
Book A Site Evaluation Today
Features of Our Horse Barns
Siding

Pine board & batten or LP SmartSide siding in your choice of stain or paint.
Roofing

Architectural shingles or metal roofing in a variety of colors.
Size

Available in a wide range of sizes – from 10×10 to 12×48.
Doors & Windows

Select the openings and windows to meet your needs.
Partitions

Several options for internal partitions.
Built to Last

Oak kick boards and steel tow loops are built to withstand years of use.
Hear From Our Customers
"Great experience here getting a barn for our mules. Excellent service and we were able to customize it just the way we wanted it. Delivery was prompt and professional. It looks beautiful! Highly recommended!"
Natalie BairdGoogle Review
"We have purchased a barn, 3 run in sheds and 2 enclosed sheds. Could not be more pleased with the quality of the buildings and the service we have received. We will continue to go back to Capitol Sheds when we need more buildings!"
Tips for Buying a Custom Horse Barn
If you want to build a custom horse barn, here are some key considerations:
Placement

Weather and convenience are the two major factors that go into building a horse barn. Think about where prevailing winds come from in the area and make sure the barn is situated for maximum protection. Placement should also consider sunlight, so the barn doesn't get too hot, making for a dangerous and uncomfortable situation for your animals. Your horse barn should also be placed on high, dry ground so that it will require less maintenance, but also conveniently placed for easy access by foot and for vehicles.
Size

Horse barn sizing is quite complex and requires balancing multiple factors, including the size and number of horses you will be housing in the barn. Consider how many stalls you need and what size those stalls should be. Also consider the space needed to move your horses around the barn, both in their stalls and in the other areas. This is a key concept that Capitol Sheds can help you determine. It also depends on how much space you have available on your property, but the safety and comfort of your horses and you should always be the top priority.
Materials

In general, horse barn materials need to be resilient and functional at every turn, from flooring to walls and posts. Many people building horse barns in Fauquier and the surrounding areas use metal siding for added resilience and less maintenance, but wooden materials are also quite popular. It's about balancing your budget with your needs.

Flooring can range from packed dirt to rubber mats or granular base materials. Since the floors require the most amount of attention, you will want a material that is easy to clean and comfortable for your animals. Hard concrete is fine for walkways, for example, but you will want something softer for stalls.
The Future

Are you a budding horse enthusiast who will likely have more horses in the future? Are you looking to breed horses? Do you have a couple of horses and will likely not have more? Most people design horse barns in Culpeper and nearby areas with only the present in mind. You should, however, build a barn that you can continue using for years to come and that can adapt to your changing needs.
Why Buy from Capitol Sheds?
Customization
You can design a horse barn to meet your needs. We'll help you choose the right style, size, color, and features to create a one-of-a-kind structure.
Financing Options
Simple financing plans with easy online application means you can order your structure faster.
See In-Stock Horse Barns at One of Our Many Locations
Across our display lots in northern Virginia, we have hundreds of sheds, playsets, and outdoor structures – most of which are available for sale. While they are not customizable, these structures can be delivered quickly – usually within a few business days.
Stop by your nearest sales lot to see our horse barns in person and talk to our experienced staff. You can also browse in-stock inventory online across our locations.
Find a Location
Get Started Creating Your Dream Pergola
Ready to add a custom-built barn to your property? Here's how you can get started today:
Request A Quote Online
Use our online form to request a quote directly from our team. You can expect to receive a prompt response – usually within a few hours.
Request a Pergola Quote
Talk to One of Our Outdoor Living Consultants
Have a question or want to discuss your options? Contact your closest office to get advice and answers to your questions.​
Call Us at 888.828.9743